*This page may include some affiliate links. This means that when you click on the link and make a purchase, we receive a small compensation, which helps us keep this blog up and running. Thank you for supporting this space!
resources just for you!
Wanna know some of the things we use for our blog or some items that have been incredibly helpful to us? Want to know some of the things we use when planning our trips? Check out some of the things we use below!
Website resources
Presets
Subscribe
Are you looking for new presets to add to your Lightroom Mobile or Lightroom Desktop applications? We'd love to have you join our family of photographers, influencers, and people looking to spruce up their photographs a bit!
Favorite Things We Have Actually Used
(Or very similar to it)

PHOTOGRAPHY
Nikon DSLR*
The current camera we use for all of our photography is a Nikon DSLR 3100. I'm currently looking for more upgrades to add to this, but it's one of my favorite cameras to use – especially for candid photography in outdoor lighting. We are considering upgrading our current camera to a Nikon DSLR 3500, however, since we found out recently they aren't making any new parts for the 3100.
PHOTOGRAPHY
Adobe Creative Cloud
The Adobe Creative Cloud makes editing SO simple! It includes Adobe Lightroom, Adobe Rush, Adobe XD, Adobe Photoshop, and the web versions of both of those applications as well. I really enjoy it because they are applications we use a lot when editing photography or creating graphics. I use it for work also as an educator.
PHOTOGRAPHY
VSCO
VSCO is an application that's perfect for those of you looking for a free (or paid) application that allows you to add filters to your photographs. For an app it's surprisingly customizable in that you can edit everything from the warmth, saturation, whiteness, and more! I used to edit the photographs taken on our phone with VSCO, but now that we create our own presets, I honestly haven't used the app. I'd still recommend it though for those of you without Lightroom Mobile!
PHOTOGRAPHY
Canva
Canva is another application that I personally find to be very useful! When I'm on the go or want to draft up something quick and easy, I use Canva. What I love about it is you don't have to be a designer to use it. It's very user-friendly and easy for anyone, regardless of your experience with graphic design.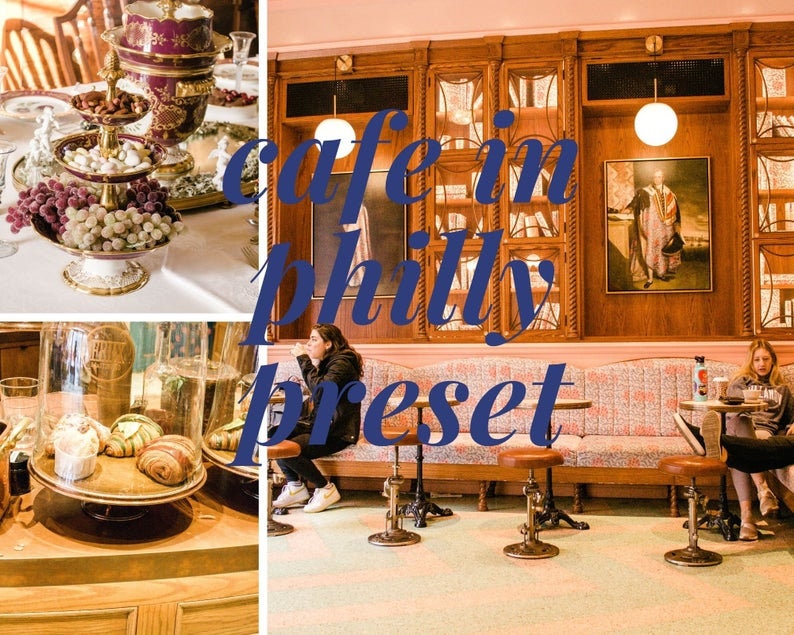 Cafe in Philly
I've used this preset to edit a lot of the photographs we've taken inside of cafes in recent years. It's creamy and depending on the lighting composition, comes out very nice without much editing needed.
Favorite Stores
Clothing Stores
J Crew Factory: J.Crew Factory is one of those stores where you know you're going nice items. We love buying sweaters and shirts from there when we're able to.
Target: How could I not include Target on this list when their clothing items are so nice?
Old Navy/Gap: These sister stores/store affiliates are some of our favorites to shop at for everything from gifts for loved ones to items for ourselves. Most of our wardrobe comes from this place.
TJ Maxx: Are you a maxxinista?
Nordstrom Rack: Honestly speaking, sometimes Nordstrom can be very expensive – at least for our educator budgets. However, Nordstrom Rack has some pretty affordable items!
Lord & Taylor: Growing up, I remember we'd drive past this store and I'd always feel it was too expensive to even go into let alone buy anything. It wasn't until recently that we learned that the clearance items are a gold mine. You can get nice items for budget prices, sometimes while browsing there!
LOFT Outlet: This is another store where I own quite a few items from!
Banana Republic Factory: I've witnessed some great deals from Banana Republic's Factory store!
Home Stores
Target: When it comes to home decor, Target is our jam. We're Circle members, so we get discounts and exclusive deals for people using the app.
TJ Maxx: Looking for items on a budget? TJ Maxx always comes through!
Home Goods/Marshalls: Depending on where you live, HomeGoods can either be attached to a Marshalls or a TJ Maxx. Either way, it's one of our favorite stores to buy home decor from.
Etsy: We typically get our custom prints from Etsy because we love the items we find there!
Amazon: We use Amazon for everything from gifts to labels to printer ink.
Ross: For certain items, we love heading to Ross. They have a nice decorative item section!